...
https://www.youtube.com/watch?v=BIIwSgPvnQA&index=7&list=PLt5jhPpkokeL7jZrgoINs1synCP7F3iAy
App Startup 
APDL supports quick launch shortcuts to a few common pages within the app. If your device is 3D Touch capable, force press on the app icon to open APDL directly to one of the listed pages. If your device does not support 3D Touch, a long press will open the quick launch shortcuts.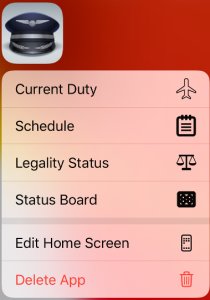 Image Added
When resuming the app after a previous use, APDL opens to the last main menu view when the device powers on. If iOS closes APDL for a non-crash reason, the app will re-open to the previous view.
Time Zones
...
Note
AutoFill requires an airline code to retrieve data from our cloud resources. As a result, deadhead flights will not be able to autofill unless they are on your own airline. If you are deadheading on a different airline, you can enter the airline code prefix to the flight number in order to enable autofill for off-line deadhead flights. For example, if deadheading on a Delta flight and you don't work for Delta, enter "DAL1234" as the flight number instead of just "1234".
Misc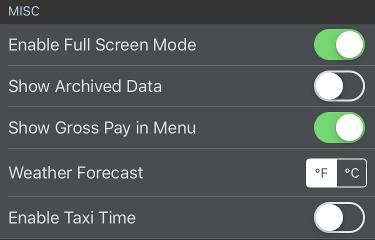 Image Modified
Full Screen mode hides the navigation bar to display more information on your screen. Swipe the screen down to reveal the navigation bar when Full Screen Mode is active. Enable or disable Full Screen Mode here if desired.
...
If you would like to use FAR 1.1 to calculate your legality, you can turn on "Enable Taxi Time" to display an additional field on Leg View which will allow you to enter the time the aircraft first taxied under its own power to differentiate from block out time which is at pushback.
...
When opening the app or resuming the app from suspended state, APDL can automatically open to a specified page. Additionally, this displays the selected page while in the multitasking view. The Automatic mode will choose which view to resume to based on where you are in your duty. It will select Calendar view when off duty, Current Duty when on duty, and Status Board from 30 minutes prior to block out, until block in.

Image Removed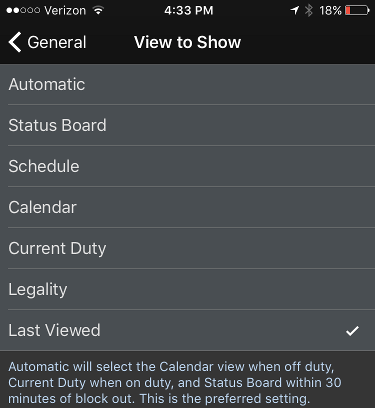 Image Removed
The screenshot below shows an example of the multitasking view when resume to Status Board is selected.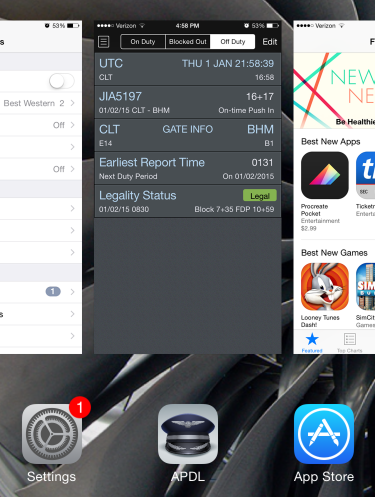 Image Removed
Security
...