Skip to end of metadata
Go to start of metadata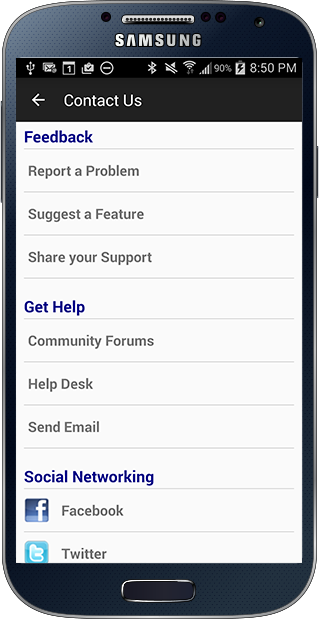 Feedback
The Contact Us area of the app accessed from the bottom of the Home Screen is the central hub for communications and resources with NC Software.  The top section allows you to submit a problem report such as when reporting bugs, or suggest a feature, or submit (or update) an app review.  Please provide as much detail as possible in your problem report or feature request.
Get Help
If you need assistance please consider using the Community Forums so others can learn from your questions and other users may also promptly answer your questions.  The Help Desk is our central hub to ask questions directly to support or sales staff or submit airline schedules to be supported by the schedule importer.  You can also choose to send an e-mail from directly within the app to our staff.
Social Networking
NC Software engages in social networking both on Facebook and Twitter.  Keep informed of news and announcements by liking us on Facebook or following us on Twitter.
Newsletter
NC Software puts out an email based newsletter approximately once a month.  The newsletter discusses how-to's, product announcements, and anything else pertinent to NC Software and related products.  If you would like to receive the NC Software newsletter enter your email address and tap Subscribe.  Your email may be pre-loaded with your NC Software account's username for signing in to the cloud.