Figure 1. Spreadsheet Style Log Sub-Toolbar
Left to right description of the toolbar shown in Figure 1 above:
Options: Click to view a drop down menu of configurable settings
Print: Click to view a drop down of print options
Export: Click to view a drop down of export options
Date Input: Click to view a drop down of automatic date entry options
New: Click to create a new flight log entry
Cancel: Cancels any changes (skips save operation, restores previous data)
Refresh: Refreshes displayed data and resets sorting to default (date ascending)
Sort: Forces a sort to the default (date ascending)
Cut: Windows Cut to Clipboard
Copy: Windows Copy to Clipboard
Paste:  Windows Paste from Clipboard
Delete: Deletes currently selected flight record(s)
Freeze Columns: Displays divider line, all columns to the left of the divider will be frozen, only those to the right will scroll left/right
Summary Bar: Toggles visibility of the Summary Bar
Enhanced Data Navigator: Toggles the Enhanced Data Navigator (show/hide)
Filter Toolbar: Displays/Hides the Filter Toolbar (Figure 2 below)
Find Dialog: Displays find information for quick record finding
Error Analysis: Click to perform an analysis of the logbook data for common errors
Help: Displays help for logbook area
Lock: Version 1.10.54 adds a new lock button just to the left of the close button.  Click this button (down) to lock the data area and prevent from inadvertent edits. Click again to unlock should you need to make any additions or edits.
Close: Closes logbook window

Figure 2. Spreadsheet Style Log Filter
Date Selector: Click to select a range of dates to filter the logbook data or Custom to select a range of dates
Aircraft: Choose the Aircraft Types to display data
Option Selector: Choose whether to display All Data (Flights and Sim), or just Flights, or Simulator entries, respectively

Figure 3. Windows Style Log Sub-Toolbar
Options: Click to view the available configuration options
Print: Click to view a drop down of print options
Display Approaches: Normally minimized, click to view the approach selector
Find: Snap to a particular record within the logbook
Summary Data: Displays Summary Bar information
Error Checking: Initiates an error checking routine to look for common data entry errors
Help: Displays the help documentation for the logbook area
Close: Closes the Windows Log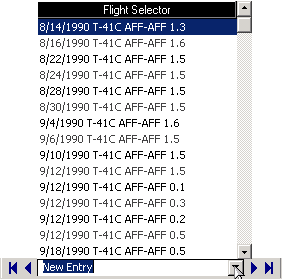 Figure 4. Windows Style Log Navigator
First Record: Click to jump to the first logbook entry
Previous Record: Click to move to the previous logbook entry
Flight Selector: Click to view a list of all available flights, select an item in the list to jump the respective logbook entry
Next Record: Click to move to the next logbook entry
Last Record: Click to move to the last logbook entry